Isle of Kerrera 
Beautiful Kerrera is Oban's closest island neighbour and can be seen from most parts of the town. The ferry journey from Oban to Kerrera takes just a few minutes. Just 7 km long and around 2 km wide, the island is a walkers' and cyclists' paradise, with quiet roads and stunning scenery. Don't miss the opportunity to be free with nature to explore the small isle and the ruined Gylen Castle, a small tower house built in 1582.
Kerrera Tea garden, and waypoint bar and grill, is a great spot for some light refreshments after a long walk or cycle around the island.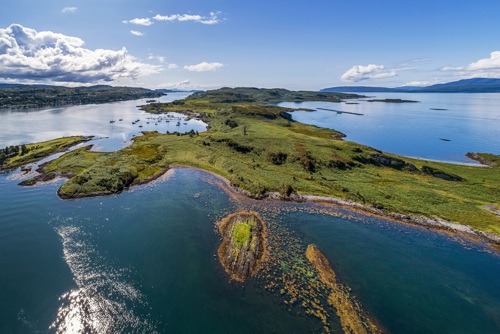 Isle of Lismore
Lismore is another nearby island that's well worth the short ferry journey, with wildlife, fascinating historical sites and glorious views. It's only ten miles long, so easily explored by bike or on foot. Why not explore the island with a local such as, Explore Lismore a small tour operator which offers bespoke, private-hire tours & picnics by Land Rover, highlighting the island's spectacular scenery & wildlife, and rich heritage, delicious local foods and close-knit community. There is plenty to see, with lots of photo opportunities on this small island.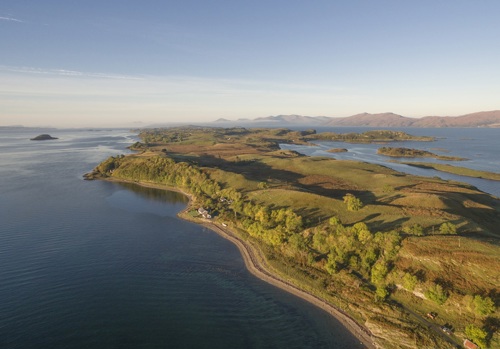 Isle of Mull & Iona 
For many visitors to the West Coast of Scotland, a trip to Mull & Iona is a highlight of their holiday. The ferry from Oban to Mull takes around 40 minutes, so it's definitely within day-trip distance. You'll need to head to the Ross of Mull to catch the passenger-only ferry to Iona. Mull has the towering peak of Ben More, Duart Castle, sparkling sands and a rich cultural life while dreamy Iona is the cradle of Christianity in Scotland. Look out for Mull's famous sea eagles. Once you've had a taste of everything that these beautiful Hebridean islands have to offer, we're pretty sure you'll be back for a longer visit!
Seil Island
Cross the 'Bridge over the Atlantic' to the Slate island of Seil, which lies some 12 miles south of Oban. If you fancy leaving the car behind, you can catch a West Coast Motors bus from Oban to Clachan Seil. This island makes for a fabulous day trip from Oban. As well as stunning scenery and wonderful walking, there's a wealth of history to discover. And there's no need to worry about ferry timetables. It's separated from mainland Argyll by the thinnest of channels, which is spanned by the delightful 'Clachan' humpback bridge. You could also take a wildlife-watching boat trip from Seil with Sealife Adventures and from Easdale with Seafari Adventures.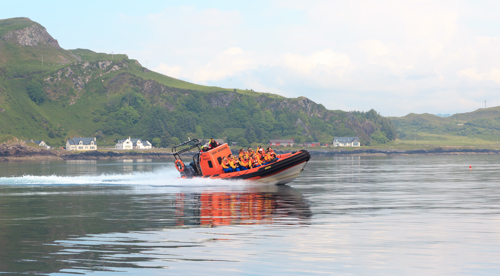 Image: Seafari Adventrues
Easdale Island & Further Afield
From Seil, you can also visit the neighbouring Slate islands of Easdale and Luing. Catch the passenger ferry to Easdale from the small pier at Ellenabeich. Head to the small village of Cuan at the island's southern tip for the five-minute ferry crossing to the island of Luing. As well as abundant wildlife and stunning views of Mull, Scarba, and the Garvellachs, you'll find the Atlantic Islands Centre on Luing which tells the story of these diverse and fascinating Atlantic isles. Tuck into fabulous local food in the café and enjoy some excellent exhibitions. If you fancy being a world champion, then try the World Stone Skimming Championships, which is held every year on the last Sunday in September on Easedale.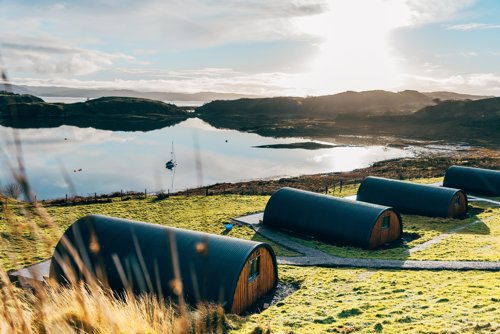 Image: Head to WildLuing to fully experience the island's breathtaking views.
Head further afield
Of course, there are lots of other islands to visit if you have a few days to spare. Coll & Tiree, the western-most isles of the Inner Hebrides are magical places, each with something different to offer. The journey to Coll takes around 2 hours 30 minutes while the ferry from Coll to Tiree. takes around another hour. You can also reach the Outer Hebridean island of Barra by ferry from Oban. The crossing takes around four hours. From here you can catch a ferry to Uist, Harris & Lewis.