The fishing port of Oban, known as 'Scotland's Seafood Capital,' is the place to sample the region's fresh seafood. The setting of this bustling town on the Firth of Lorn couldn't be more scenic. Oban Bay is a near-perfect horseshoe, protected by the island of Kerrera, and beyond Kerrera lies the Isle of Mull. To the north is the island of Lismore. From award-winning fine dining to family-friendly gastro pubs to the freshest fish and chips, there's seafood for all tastes and budgets in Oban.
1. The Waterfront Fishouse
Across on Oban's South Pier you'll find one of the town's top fish restaurants. Housed on the top floor of a converted seamen's mission, the Waterfront Fishouse serves up the finest fish and shellfish landed at the quay just a few metres away. The menu ranges from classic haddock and chips to fresh oysters and scallops. Treat yourself to a plate of local langoustine (caught that day by 'Gordon the Prawn'), Isle of Mull scallops or a seafood taster platter. Or how about oysters from the clear waters of Loch Creran just north of Oban? Try them naturally with beetroot piccalilli, grilled with smoked paprika butter or deep-fried with seaweed mayonnaise. Make sure you check out the blackboard for daily 'just landed' specials. The views from the restaurant are tremendous, looking out to Kerrera, Lismore, and the mountains of Mull and Morven beyond. Enjoy a seafood feast to remember while the sun sets behind the islands.
2. The Green Shack
For more fresh seafood head to Oban's famous Green Shack on the CalMac Pier. This Oban institution was set up by fisherman John Ogden in 1990 to sell seafood caught by local fishermen. It's an alfresco dining and takeaway-only shack that serves enormous seafood platters, sizzling scallops, whole-cooked lobster and the best crab sandwiches you'll ever taste, all at incredibly affordable prices. It doesn't get much better than this for the seafood lover! The views over Oban Harbour are phenomenal too. Take a seat at the outdoor communal table, tuck into your crab claws and watch the ferries to the Hebrides coming and going.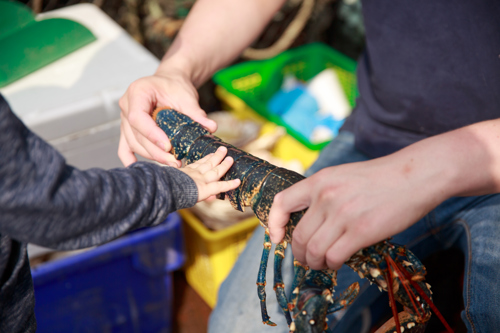 3. The View
The View is Oban's versatile Scottish restaurant and bar. Enjoy fish and chips overlooking the harbour on their popular waterfront terrace and stay on for a traditional Scottish ceilidh or live music.